The British Council for Offices (BCO) was established in 1990 "to research, develop and communicate best practice in all aspects of the office sector".
In their quest to create more effective office spaces, they hold an annual competition to find what it believes are the best and most innovative office space designs in the UK.
This years winners have just been announced. Hilary Osborne reports….
One Eagle Place, London, was judged the best commercial workplace. The building in central London was developed by the Crown Estate and has offices for Virgin Money and Hayfin Capital Management among others. BCO said: "Externally the design is both brave and testing, while elegantly retaining the original facades. Internally the building delivers highly efficient but simple floor plates that maximise the aspects along Piccadilly."
The Council House Derby won the refurbished and recycled category. The building underwent a complete revamp so it could accommodate more almost four times as many council staff, but retain its original front.
International insurance broker Arthur J. Gallagher was recognised for its fit out of the Walbrook Building in London, a 5,600m2 space that accommodates around 700 of its staff. Key features include electronic glass walls and break out spaces.
Among small offices, Argent's 4 Stable Street, London was judged the best place to work, winning the award for project up to 2,000m2. "The individual spaces, whether it be the marketing suite, the open plan areas, the cosy living room or the staff kitchen – which incorporates the essential large kitchen table – are tied together beautifully," BCO said. "The office space is exemplar, providing an inspirational and creative working environment."
The Sharp Project, Manchester, was given an award for innovation. The building, which is owned by the city council, houses 54 film, TV, music and design companies.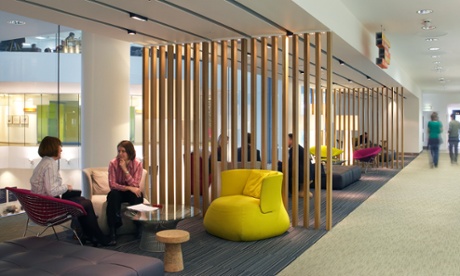 Guardian News and Media, Kings Place, London won the test of time award – a prize for previous winners that have continued to "live up to their original aspirations and intentions". In 2009 it was judged best of the best.
Article originally published in The Guardian 8/10/14